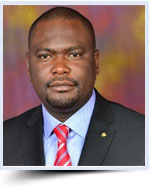 Geoffrey K. Kiringa Ruku is a member of the Board of Trustees of the Water Services Trust Fund.
Mr. Ruku is an Expert Assessor on monitoring, validating and verifying of low carbon projects in Kenya with Carbon Check, a Designated Operating Entity based in South Africa. He is also an independent contractor with Fair Climate Network Southern Africa based in Pretoria, South Africa. He has consulted in designing project protocols and conducting baseline studies and implementing of climate smart agriculture projects. He is also a UNFCCC consultant on CDM (Clean Development Mechanisms) loan scheme.
Mr. Ruku is the Founding Director of Climate Pal Ltd, a joint venture company (Carbon Manna Africa & Eco Act) which implements carbon emissions reduction projects in Kenya for green growth and development. He championed successful running of the company from inception to having fully operational projects as the Managing Director. He is also the Founder of the Carbon Manna Africa Ltd. From 2006 to 2009, he worked with the Israeli Embassy as a Coordinator for Center for International Development and Cooperation, Mashav.
Mr. Ruku is currently pursuing a Doctor of Philosophy degree in Environmental Management and Governance at Wangari Mathaai Institute of Peace and Environmental Studie, working on Low Carbon Economy as a research area. He holds Master of Business Administration (Finance), Postgraduate Diploma in Diplomacy and International Relations, both from the University of Nairobi, and Bachelor of Commerce Degree from the Catholic University of Eastern Africa.