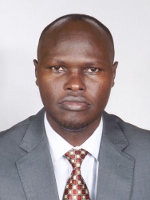 Joseph K. Ole Nkaiwuatei is a member of the Board of Trustees of the Water Services Trust Fund.
Mr. Nkaiwuatei was appointed as a member of the Board of Trustees of the Water Services Trust Fund in November 2015. He has over 12 years' experience in the development sector, mainly in the education sector, Water and Sanitation, Livelihoods and Economic development, having implemented development projects and Programmes with GTZ, Netherlands Development Organisation (SNV), Concern Worldwide, Catharina Foundation, Action Aid International. He is currently with the Kenya Community Development Foundation, where he is the team leader for the Education Youth and Children Portfolio.
Mr. Nkaiwuatei's experience in education includes processes aimed at improved education access, equity and quality, improved stakeholder coordination in support of education in the arid and semi-arid areas, and the slums of Nairobi. Other areas of expertise include institutional strengthening, organisation development, strategic planning, capacity building facilitation and community mobilisation towards sustainability of community projects.
Mr. Nkaiwuatei holds a Bachelor of Arts degree in Political Science and Sociology, and a Master's degree in Project Planning and Management, both awarded by the University of Nairobi.