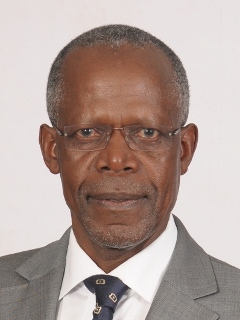 Hon. Musikari N. Kombo, E.G.H., is the Chairman of the Board of Trustees of Water Services Trust Fund (WSTF).
Hon. Kombo pioneered and made a significant contribution to the agenda of anti-corruption in Kenya. During the 8th Parliament he played a significant role in institutionalising the fight against corruption as well as in rejecting legislation that would not contribute to the fight against corruption. In December 1997, the Kenya Anti-Corruption Authority (KACA) was established following an amendment to The Prevention of Corruption Act Cap 65, Laws of Kenya.
In 1998, Hon. Kombo chaired a Parliamentary Committee that produced a report known as the "Kombo Report" the appendix to which was the even more famously known "List of Shame". He spearheaded a Bill in Parliament which was later on taken over by the Government and enacted as The Political Parties Act, 2011 (No. 11 of 2011). This Act of Parliament provided for registration, regulation and funding of political parties.
Hon. Kombo has also contributed, and has been recognised and acclaimed for his contribution to the fight against corruption in Africa and globally. In this respect he contributed to the setting up of anti-corruption bodies of parliamentarians and served on them both as a resource person and board member.
Hon. Kombo holds a BA Degree (Economics) from the University of East Africa. He has been a successful international businessman with companies in East Africa. He owned and managed groups of companies where he successfully held the roles of Managing Director / CEO and Board Chairman.
Hon. Kombo is an ardent reader and enjoys sports. He is a regular player of golf.