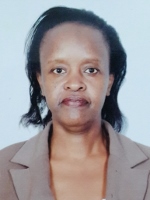 Sheila Murugi Mugo is a member of the Board of Trustees of the Water Sector Trust Fund.
Ms. Mugo was appointed as a member of the Board of Trustees of the Water Sector Trust Fund in November 2015. She is a lawyer by profession and an Advocate of the High Court of Kenya with over 15 years' experience. She holds a Masters in Women's Law from the University of Zimbabwe, a Bachelor's degree in law (LLB) from the University of Nairobi and a postgraduate diploma in law from Kenya School of Law. She also has qualifications in humanitarian and refugee studies from the University of Dar es Salaam's Centre for the Study of Forced Migration. She has also qualified in mediation from the Peacemakers Ministries International. She has worked in various firms and is currently the proprietor of Sheila Mugo & Company Advocates.
Ms. Mugo thrives in social justice and has a passion for the rights of the oppressed and marginalised. She has interrogated and written on gender issues relating to access, control and ownership of land, water and natural resources, climate change and gender as well as international human rights issues. She is a member of The Law Society of Kenya, Christian Lawyers Fellowship and International Commission of Jurists (ICJ) Kenya Chapter.
Ms. Mugo is also in the board of management of Chief Mbogori Girls High School in Tharaka Nithi County.
Social media contacts: