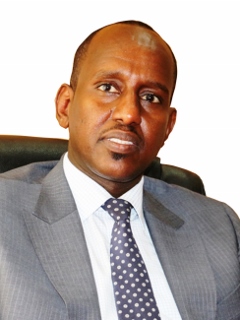 Ismail Fahmy M. Shaiye is the Chief Executive Officer of the Water Services Trust Fund (WSTF), having joined the Fund in November 2014.
Mr. Shaiye is a Natural Resource Expert with over 10 years' experience in various countries in Eastern Africa and the United States of America (USA). He served as a Program Manager and Environmental Officer at the United States Agency for International Development (USAID) in Nairobi with responsibilities of ensuring that programs comply with both national and international environmental laws. In addition, he advises USAID Missions in the region on broader issues pertaining to water and sanitation, environmental regulations, biodiversity protection, climate change and environmental dispute resolution.
Mr. Shaiye holds a Master's Degree in International Environmental Law (Vermont Law School). He also holds a Master of Science Degree in Natural Resource Management and a Bachelor of Arts Degree in Global Studies (Environmental Governance) from the University of Minnesota. He has extensive experience in the application and compliance of Multilateral Environmental Agreements (MEAs) and is an experienced development professional with experience in program management, monitoring and evaluation and communications for clients including Word Bank, European Union, DfID, and the United Nations.
Mr. Shaiye has worked previously with several organisations in the field of water, sanitation and environment including USAID, Kenya Red Cross Society, Mercy USA for Aid and Development and Mississippi County Watershed, USA.