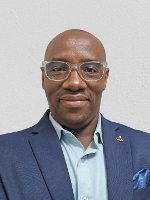 Bernard Njenga is the Manager, ICT, of the Water Sector Trust Fund (WSTF), having joined the Fund in September 2015.
Mr. Njenga is a proficient IT professional with substantial and progressive corporate experience in the stategic leadership of the IT function, overseeing business-critical IT infrastructure and providing leadership in IT projects.
At the Water Services Trust Fund, Mr. Njenga is in charge of the ICT strategy and policy formulation and implementation, and management of the effective provision of information systems and technology for the Fund to realise strategic advantage and ROI on ICT investments.
Mr. Njenga has a sharp focus on leveraging use of mobile and cloud technologies in order to promote efficiency, effectiveness and availability of the Fund's core business operations while also promoting the use of best information systems practices among the users. He has a passion for demystifying IT and capacity-building non-technical people to confidently use IT tools.
Mr. Njenga is a holder of Masters in Business Administration (MBA) (Management Information Systems), and Bachelor of Commerce (BCom) (Business Information Systems) in which he graduated with First Class Honours. Both these degrees were awarded by the University of Nairobi. He is also a holder of Diploma in Computer Studies in addition to industry certifications.